WalletMate Mobile Wallet Reader is designed to facilitate mobile NFC applications certified by Apple and Google VAS (Value-Added Service) protocols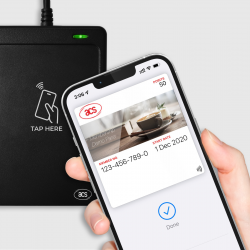 The WalletMate is certified by Apple and Google VAS (Value-Added Service) protocols.
Could bring ultimate cardless user experiences by supporting various virtual passes such as loyalty cards, tickets, and staff /student ID cards on both IOS and Android platforms.
With the VAS protocol, users can enjoy an agile and convenient tap-to-go experience as the host terminal could select a specific wallet pass from the user's mobile through a unique merchant ID.
The WalletMate is developed based on 13.56MHz, it supports ISO 14443 Type A and B cards, MIFARE®, FeliCa, and ISO 18092–compliant NFC tags.
It is certified by the NFC forum, making it capable of the three NFC modes, namely: card reader/writer, card emulation and peer-to-peer communication.
Compliant with both CCID and PC/SC, this plug-and-play USB NFC device allows interoperability with different devices and applications.
It is thus ideal for integrating into various systems to support both physical smart cards and virtual wallet passes.
WalletMate comes with an optional stand to hold the reader at an optimal angle, so that users can tap mobile phone, contactless cards or NFC-enabled devices onto the the WalletMate with ease.
In addition, WalletMate is supported by the ACS VAS Test Tool, which is a tool developed by Advanced Card Systems Ltd. (ACS), intended to test NFC-enabled Apple Pay Passes and Google Pay Passes with WalletMate.
SELECT THE PRODUCT OF ACS READER
SELECT ALTERNATIVE READERS