MRO (Maintenance, Repair and Operations) applications for aviation and for its high-performance RFID tags uniquely suited to temperature extremes, oil, dirt, hydraulic fluid, cleaning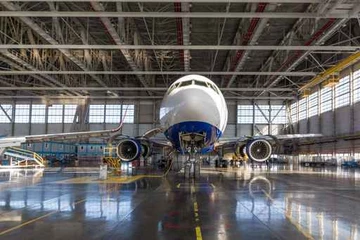 Applications for aviation
An increasing number of aviation companies are implementing RFID for MRO Tool Control, as a way of improving safety by automating Foreign Object Debris (FOD) detection and supporting Maintenance Repair and Operations (MRO) processes.
Aman Aviation's tool crib software uses RFID to save time compared to paper-based record keeping and manual tool searches.
RFID will also improve record accuracy and make tool status information available in real-time which will reduce the time airplanes spend on the ground, augment the number of trips they make, make air travel in India more cost-effective and profitable, and maintain high levels of safety.
Suited to temperature extremes, oil, dirt, hydraulic fluid, cleaning
Most extreme environments
MRO is one of the most extreme environments for RFID tags because it demands reliable performance for as long as the tagged tool, part or other asset is in service.
RFID can provide the essential link between the physical items and the information needed to keep them running safely and efficiently.
Tool tracking
Xerafy was selected for its strong experience in RFID tool tracking applications for aviation and for its high-performance RFID tags uniquely suited to temperature extremes, oil, dirt, hydraulic fluid, cleaning solvents, and other challenging materials and conditions common to aerospace operations.
The Xerafy XS tags, in particular, were selected by Dolphin RFID for the tool control application because of their small form factor and excellent read range as well as reading reliability when used on and near metal objects.
Rajendra Johri, CMD Aman Aviation and Aerospace Solutions said, "The new civil aviation policy has relieved the MROs from paying a royalty to airports they operate in.
Operating cost
This will translate into a possible saving of about 20% of operating cost, which can be used to implement technologies such as RFID to enable cost-effective, safer, and on-schedule air travel for Indian customers.
By leveraging RFID technology through this collaboration, with MRO we can help airlines to better manage assets, inventory, and customer baggage and also maintain the highest level of safety and security without using excess manpower.
MRO will help make air travel affordable, enhance the connectivity of India's tier-2 and tier-3 cities, and create more business hubs across India."
Innovation
Xerafy is a pioneer in Industrial RFID, bringing to market several innovations that enable advanced industrial identification and automation capabilities.
Personalization
In addition to a complete range of field-proven RFID tags available off-the-shelf, Xerafy offers Custom RFID Tags services, covering everything from a personalization service bureau to custom-design engineering capabilities.