ACR1281U-C2 HF contactless Card Reader that automatically and efficiently gets the Unique Identifier number (UID)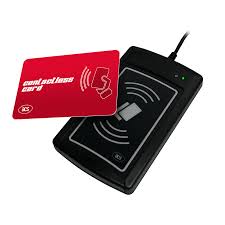 ACR1281U-C2 Card UID Reader is a contactless card reader that automatically and efficiently gets the Unique Identifier number (UID) of any ISO 14443 Parts 1-4 Type A and B-compliant contactless card.

When presented with a contactless card (such as a MIFARE card), the ACR1281U-C2 retrieves the card's UID and automatically returns it to the PC.
The reader enables output of the UID directly to any editor, e.g. Notepad, MS Excel, MS Word, etc.
With the UID, cardholders can be identified correctly in different applications, such as identity verification, time & attendance, and access control.
ACR1281U-C2 also has an anti-collision feature that ensures only one card is accessed when multiple cards are presented simultaneously.

Because ACR1281U-C2 Card UID Reader is compliant with the Human Interface Device (HID) standard, it reduces driver installation issues during integration into PC environments.
It can support most operating systems, including Microsoft® Windows, Linux and other embedded systems.
ACR1281U-C2 Video Demonstration
ACS PRODUCTS
ACS develops and supplies high-quality and reliable PC-linked smart card readers based on various industry standards such as PC/SC (personal computer/smart card) and EMV (Europay, MasterCard and Visa), with ACR38U and ACR39U
ACS offers contactless smart card readers/writers to meet the growing demand for contactless applications with NFC, Bluetooth low energy (BLE),
ACS offers a line of mobile smart card readers to work in conjunction with most tablets and smartphones on the market
ACS develops smart card reader solutions in embeddable form. These smart card reader modules are designed to be integrated into embedded systems.
bADGEDOC IS AN AUTHORIZED RESELLER OF ADVANCED CARD SYSTEM LTD PRODUCTS
The ACS products listed below come from official and certified channels
Smart Cards & Smart Card Operating Systems
PC Linked Smart Card Readers
Contactless Readers
Mobile Card Readers
Smart Card Readers with PIN-pad
Automatic Fare Collection (AFC) Readers
Software Development Kits
SELECT THE PRODUCT OF YOUR INTEREST
PRODOTTI COLLEGATI