PocketKey ACS's FIDO® certified devices are compliant with FIDO U2F and FIDO2 protocols, and aim to provide users with a speedy and safeguarded passwordless online login experience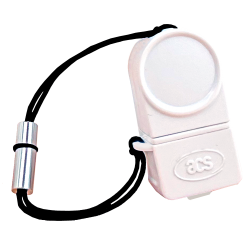 ACS's PocketKey provides users the experience of secure and swift passwordless online login.
It allows individuals, enterprises and government-scaled agencies to substitute passwords with multi-factor authentication or two-factor authentication, reducing reliance on static passwords.

The device is certified by the FIDO Alliance [FIDO®] and is compliant with FIDO U2F and FIDO2 protocols.
The device's cryptographic security model terminates any likelihood of phishing, password/identity theft and repetitive attacks.
User tracking can also be prevented by storing FIDO cryptographic keys on-device and creating unique keys for each website.

PocketKey is available as an USB Type-A and is designed with a mechanical switch.
The switch is essential for acknowledging user presence as it ensures that the user is physically present in order to interact with the application.

It is also compatible with operating systems such as Windows®, Linux®, macOS and AndroidTM, as well as major web browsers: ChromeTM, Safari®, Microsoft Edge® and Firefox®.
For more information on how to use PocketKey to perform passwordless/two-factor authentication on various platforms, please refer to the following demonstration videos:
1. Microsoft® OutlookTM Sign In Demo
2. Google® Account Sign-In Demo
3. Apple ID® and iCloud® Sign-In Demo
Primary Applications
e-Government
Mobile Banking & Payment
e-Healthcare
Telecommunications
SELECT THE PRODUCT OF ACS READER
SELECT ALTERNATIVE READERS