ACR35 NFC MobileMate Reader HF contactless with MAG stripe, the perfect tool that you can use with your mobile device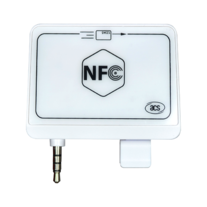 ACR35 NFC MobileMate Card Reader is the perfect tool that you can use with your mobile device. Combining two card technologies into one, it provides its user the flexibility to use magnetic stripe cards and smart cards without the additional cost.
With a rechargeable Lithium-ion battery and standard 3.5 mm audio jack interface, the ACR35 NFC MobileMate can seamlessly extend the usefulness of any mobile device.
It delivers NFC reader functionality and mobility, which allows you to use NFC and contactless applications, even for mobile readers without built-in NFC functionality.
ACR35 NFC MobileMate uses AES-128 encryption algorithm and DUKPT Key Management system to secure your data.
Portable. Modern. Versatile. Compact. ACR35 NFC MobileaMate Card Reader is a handy and lightweight card reader that is perfect for users who wish to transact securely while on the go.
Should you wish to try out the demo apps for ACR35, please download the app from Google Play and App Store.

ACS PRODUCTS
ACS develops and supplies high-quality and reliable PC-linked smart card readers based on various industry standards such as PC/SC (personal computer/smart card) and EMV (Europay, MasterCard and Visa), with ACR38U and ACR39U
ACS offers contactless smart card readers/writers to meet the growing demand for contactless applications with NFC, Bluetooth low energy (BLE),
ACS offers a line of mobile smart card readers to work in conjunction with most tablets and smartphones on the market
ACS develops smart card reader solutions in embeddable form. These smart card reader modules are designed to be integrated into embedded systems.
bADGEDOC IS AN AUTHORIZED RESELLER OF ADVANCED CARD SYSTEM LTD PRODUCTS
The ACS products listed below come from official and certified channels
Smart Cards & Smart Card Operating Systems
PC Linked Smart Card Readers
Contactless Readers
Mobile Card Readers
Smart Card Readers with PIN-pad
Automatic Fare Collection (AFC) Readers
Software Development Kits
SELECT THE PRODUCT OF YOUR INTEREST
PRODOTTI COLLEGATI