DIGITALPERSONA LOGON FOR WINDOWS – multi-factor authentication, PIN, one-time passwords (OTP), mobile push notifications, FIDO, PKI, fingerprint and face recognition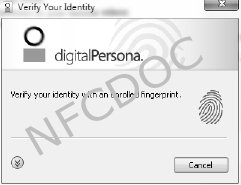 Overview
HID's multi-factor
A key element within HID's multi-factor authentication portfolio, transforms the way IT professionals protect the integrity of their digital organization by going beyond traditional two factor and multi-factor authentication.
Also enable rapid and secure login to Windows, VPN and applications via biometrics, mobile devices, physical access readers, smart cards and security keys.
Best suited for financial services, healthcare, manufacturing, retail, call centers, law enforcement or where multiple users need to easily and securely share the same workstation and user session.
DIGITALPERSONA LOGON, offers the ability to deploy the optimal set of authentication factors for every user, device, system, network and application.
Providing organizations with a holistic approach to securing diverse corporate resources, along with client and server components, Such as SSO, Access Management API and Password Manager modules, mobile push notifications, one-time passwords (OTP).
Eliminates siloed security processes with cost-efficiency while providing easy-to-deploy, use and manage multi-factor authentication that evolves with security standards, technologies and industry regulations.

Breadth of Authentication
Full protection
Full protection requires organizations to eliminate their dependence on the ability of humans to continuously and consistently adhere to complex authentication policies.
DIGITALPERSONA LOGON provides the right level of security through the broadest possible selection of authentication methods.
Including PIN, one-time passwords (OTP), mobile push notifications, FIDO, PKI and biometrics, such as fingerprint and face recognition
Delivering a seamless user experience and the strongest protection available in the industry.

Key Benefits
COMPLETE COVERAGE
In addition to the traditional set of authentication factors — something you have, something you are, or something you know.
It an be combined with Microsoft Sites and Services adding authentication for the contextual risk factors of time, velocity, and location.
The latter cover what you do, where you are and when you act, allowing you to precisely match your risk exposure to the optimal security posture for your organization.
Supporting applications such as websites, cloud, Windows, mobile, VDI and VPN.
iT goes beyond contemporary applications to include legacy mainframe apps, which continue to play a vital role in many organization's computing environments.
Moreover, DIGITALPERSONA LOGON ensures secure access for all your identities from employees to customers, vendors, and partners with flexible authentication configured for your security needs.
VERSATILE AUTHENTICATION
Widest array of supported authentication factors eliminate both the reliance and burden on users enabling organizations to lead with strong authentication postures without compromising user experience and productivity.
The growing range of authentication options means you are never forced down a predetermined path.
With this unprecedented freedom of choice, organizations can combine usability and protection based on specific security goals and/or industry regulations.
RAPID DEPLOYMENT AND SCALABILITY
With DIGITALPERSONA LOGON, you can leverage your existing IT infrastructure and deploy more quickly than other solutions on the market today.
Organizations are typically up and running in days — not weeks or months.
Also provides native support for Active Directory, Azure AD and Office 365, enabling you to leverage your existing Microsoft resources and expertise.
In addition, scales along with your Active Directory and can be used on small networks with just a few computers or big ones with thousands of networked connections / workstations.
Administration is simplified: no proprietary tools are needed to learn, manage or administer the solution.
You can implement with minimal disruption, total staffing flexibility and both lower up-front and on-going overhead costs.
DIGITALPERSONA LOGON provides peace of mind through scalable, extensible and customizable security architecture, designed to easily accommodate new authentication factors.
Also standards, such as FIDO2 as they emerge.
SELECT THE PRODUCT OF YOUR INTEREST