ACR39U Contact Chip Card Reader USB, plug-and-play, SAM (Security Access Module), fully compliant with PC/SC and CCID specifications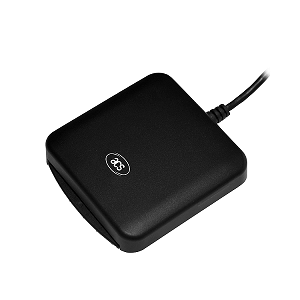 ACR39U Smart Card Reader ushers in new and modern technology to the world of smart card readers.
This compact smart card reader brings together sophisticated technology and modern design to meet rigorous requirements of smart card–based applications.
It also features a USB Full Speed interface and a smart card read/write speed of up to 600 Kbps. Highly durable, ACR39U can last for 200,000 card insertion cycles.
ACR39U also has various certifications, such as EMV™ Level 1 (Contact) and PBOC, making it the ideal smart card reader for your e-Banking and e-Payment application needs
It is fully compliant with PC/SC and CCID specifications, and supports various operating systems such as Windows®, Solaris™, Linux®, and macOS.
Additionally, ACR39U may be used on mobile devices running on the Android™ platform versions 3.1 and above.
With its sleek, stylish design and powerful core, the ACR39U is the ideal peripheral for your smart card applications.
ACS PRODUCTS
ACS develops and supplies high-quality and reliable PC-linked smart card readers based on various industry standards such as PC/SC (personal computer/smart card) and EMV (Europay, MasterCard and Visa), with ACR38U and ACR39U
ACS offers contactless smart card readers/writers to meet the growing demand for contactless applications with NFC, Bluetooth low energy (BLE),
ACS offers a line of mobile smart card readers to work in conjunction with most tablets and smartphones on the market
ACS develops smart card reader solutions in embeddable form. These smart card reader modules are designed to be integrated into embedded systems.
bADGEDOC IS AN AUTHORIZED RESELLER OF ADVANCED CARD SYSTEM LTD PRODUCTS
The ACS products listed below come from official and certified channels
Smart Cards & Smart Card Operating Systems
PC Linked Smart Card Readers
Contactless Readers
Mobile Card Readers
Smart Card Readers with PIN-pad
Automatic Fare Collection (AFC) Readers
Software Development Kits
SELECT THE PRODUCT OF YOUR INTEREST
PRODOTTI COLLEGATI