ACR1255U-J1 ACS Secure Bluetooth NFC Reader. It combines the latest 13.56 MHz contactless technology with Bluetooth connectivity.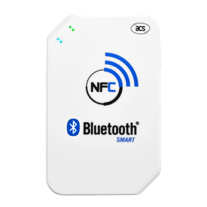 ACR1255U-J1 ACS Secure Bluetooth® NFC Reader is designed to facilitate on-the-go smart card and NFC applications. It combines the latest 13.56 MHz contactless technology with Bluetooth® connectivity.
ACR1255U-J1 supports ISO 14443 Type A and B smart cards, MIFARE®, FeliCa®, and most NFC tags and devices compliant with ISO 18092 standard.
This makes ACR1255U-J1 ideal for a broad range of solutions, such as hands-free verification for physical and logical access control, and inventory tracking.
ACR1255U-J1 has two interfaces: Bluetooth (also known as Bluetooth Low Energy or BLE) for pairing with mobile devices, and USB Full Speed for PC-linked operation.
Additionally, it can read/write at a speed of up to 424 Kbps for contactless smart card and NFC device access.
With a compact design and a rechargeable Lithium-ion battery for power, ACR1255U-J1 is extremely portable and convenient for use anytime, anywhere with most Bluetooth-enabled smartphones and tablets.
To save valuable cost and time, the firmware of ACR1255U-J1 could conveniently be upgraded on the field.
This enables users to cope with the fast-changing technology for their applications, and suit different scenarios.
AES-128 encryption
With Bluetooth® technology and AES-128 encryption, ACR1255U-J1 connects securely and wirelessly to any device running on Android™ 4.3 and later, iOS 8.0 and later, Windows® 7 and later, and Mac OS® 10.7 and later.
For PC-linked operation, ACR1255U-J1 could easily be installed for use with any personal computer running on Windows® operating system because it is PC/SC and CCID-compliant.
Its drivers are also compatible with Linux® and Mac OS®.
With its numerous features, the ACR1255U-J1 is the perfect reader for your smart card solution.
Should you wish to try out the demo apps for ACR1255U-J1, please download the app from Google Play and App Store.
ACS PRODUCTS
ACS develops and supplies high-quality and reliable PC-linked smart card readers based on various industry standards such as PC/SC (personal computer/smart card) and EMV (Europay, MasterCard and Visa), with ACR38U and ACR39U
ACS offers contactless smart card readers/writers to meet the growing demand for contactless applications with NFC, Bluetooth low energy (BLE),
ACS offers a line of mobile smart card readers to work in conjunction with most tablets and smartphones on the market
ACS develops smart card reader solutions in embeddable form. These smart card reader modules are designed to be integrated into embedded systems.
bADGEDOC IS AN AUTHORIZED RESELLER OF ADVANCED CARD SYSTEM LTD PRODUCTS
The ACS products listed below come from official and certified channels
Smart Cards & Smart Card Operating Systems
PC Linked Smart Card Readers
Contactless Readers
Mobile Card Readers
Smart Card Readers with PIN-pad
Automatic Fare Collection (AFC) Readers
Software Development Kits
SELECT THE PRODUCT OF ACS READER
PRODOTTI COLLEGATI