XERAFY Roswell Autoclavable, per applicazioni dell'autoclave nel settore sanitario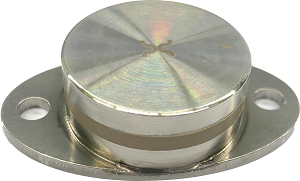 The heavy-duty RFID tags benefit from an innovative patent-pending antenna-free structure that provides exceptional durability and RFID performance where everything else fails: Heat, pressure, shocks, vibrations, compression, pressure, vapor, fluids, chemicals…
Can RFID work in metal? The embeddable RFID tags are engineered to be flush-mounted and make full use of the metal in the asset to increase RF performance.
In operation above and below ground, Xerafy's ROSWELL series of passive on metal RFID tags are proven for asset tracking in the field, supplementing the MICRO high-temp tags and PICO small tags.
"Considering the environment and working conditions the tag would have to endure, the mounting options available to us, and the surfaces we would need to work with, the Xerafy Roswell ticked all the boxes."
Affidabile e durevole per applicazioni difficili e soddisfa i requisiti dell'autoclave per l'uso nel settore sanitario.
È progettato per un attacco rapido e conveniente e può essere facilmente imbullonato o legato a una risorsa.
RF protocol EPC global Class 1 Gen2
Frequency
902-928 (US) ; 865-868 (EU)
IC type (chip)1
Alien Higgs-3
Memory
96-EPC bits,
64-bit unique TID, 512 -bit user memory
Material
Stainless steel
PRODOTTI ALTERNATIVI