ACR123U Intelligent Contactless Reader LCD, ISO 14443-4, Point-of-Sale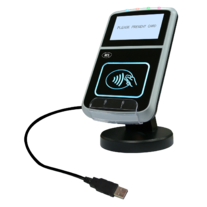 L'ACR123U è la versione USB dell'ACR123S, un lettore contactless economico, flessibile e intelligente.
Può essere integrato con terminali o registratori di cassa esistenti (Point-of-Sale), per offrire la comodità di un sistema di pagamento senza contanti.
L'ACR123U accelera il movimento nei banchi cassa, consentendo ai clienti di completare i pagamenti semplicemente toccando le loro carte.
L'ACR123U è dotato di un ampio display LCD grafico che consente ai commercianti di visualizzare messaggi, nonché di un'ampia area di tocco con retroilluminazione, che guida i clienti nell'esecuzione delle loro operazioni di pagamento.
Sviluppato sulla base della tecnologia contactless (RFID) a 13,56 MHz, supporta qualsiasi scheda contactless secondo lo standard ISO 14443-4.
È inoltre dotato di un ampio display grafico LCD e di un'ampia area di contatto controllabile dall'utente con retroilluminazione.
ACS PRODUCTS
ACS develops and supplies high-quality and reliable PC-linked smart card readers based on various industry standards such as PC/SC (personal computer/smart card) and EMV (Europay, MasterCard and Visa), with ACR38U and ACR39U
ACS offers contactless smart card readers/writers to meet the growing demand for contactless applications with NFC, Bluetooth low energy (BLE),
ACS offers a line of mobile smart card readers to work in conjunction with most tablets and smartphones on the market
ACS develops smart card reader solutions in embeddable form. These smart card reader modules are designed to be integrated into embedded systems.
bADGEDOC IS AN AUTHORIZED RESELLER OF ADVANCED CARD SYSTEM LTD PRODUCTS
The ACS products listed below come from official and certified channels
Smart Cards & Smart Card Operating Systems
PC Linked Smart Card Readers
Contactless Readers
Mobile Card Readers
Smart Card Readers with PIN-pad
Automatic Fare Collection (AFC) Readers
Software Development Kits
SELECT THE PRODUCT OF YOUR INTEREST
PRODOTTI COLLEGATI