The DigitalPersona 5200 Fingerprint Module is certified for both FBI PIV and FBI Mobile ID FAP 20 standards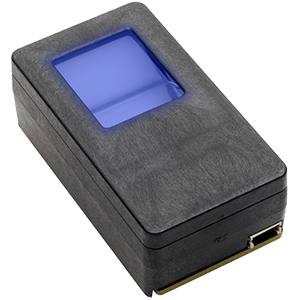 DigitalPersona 5200 Fingerprint Module details
The DigitalPersona 5200 Fingerprint Module is certified for both FBI PIV and FBI Mobile ID FAP 20 standards.
It produces 500 dot-per-inch (dpi) fingerprint images in ANSI and ISO/IEC standard formats.
The hard glass imaging window is sealed against dust and liquids (IP64) and is highly resistant to chemical and physical damage.
On-board electronics automatically control calibration and data transfer over the USB interface.
Its compact size and convenient mounting features simplify OEM integration.
This self-contained module optically scans the fingerprint when the user touches the glass imaging window.
The DigitalPersona 5200 Module can be used with any standards-compatible fingerprint templates extractor or matcher — including the DigitalPersona® FingerJet™ Biometric Engine.
The DigitalPersona 5200 Fingerprint Module is designed for use with a full range of DigitalPersona Software Development Kits from HID®.
Easy to program and integrate, the DigitalPersona SDK runtime environment is free to distribute with customer applications.
Whether you are an OEM or system integrator, HID's biometric identity verification solutions provide a natural extension to your applications.
Key Features
FBI PIV & Mobile ID FAP 20 certified
Fine-grained power control
Blue platen illumination
500 dpi images
High-durability glass top surface
IP64-rated top surface sealed against dust and liquid
Counterfeit finger rejection
ESSENTIAL CONDITIONS OF FINGERPRINT READER
BIOMETRICS INCLUDE FINGERPRINT READERS.
Fingerprint readers are used to securely verify identity
HID covers a wide range of products from the simplest for authentication on PC, network to the most complex of the LUMIDIGM series used by the FBI
CAPTURE

The fingerprint scanner scans your fingerprint.
It can be used for many applications, including access control, license verification, criminal background checks, computer logon, etc.
LIVENESS

Verification of the "liveliness" of a person, in practice verifying that the fingerprint is not a fake, which is performed via a computer system.
This control is usually used to counter fraud and identity theft.
MATCHING

The main categories of fingerprint matching techniques are minutiae-based matching and pattern matching.
Pattern matching simply compares stored images to see how similar they are.
Pattern matching is usually used in fingerprint systems to detect any duplicates.
LEARN MORE
See the document Powering Trusted Identities with Fingerprint Biometrics Brochure