NOMAD 30 Pocket Reader for Windows, Android, iOS, PIV, CJIS and FAP 30 compliant thin-film transistor (TFT) mobile fingerprint reader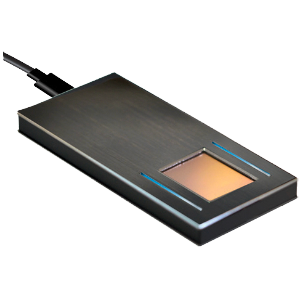 The NOMAD 30 Pocket Reader for Windows®, Android™ and iOS is an affordable single fingerprint reader which can be bundled with smartphones, tablets or laptops for law enforcement to easily perform rapid/fast identification in the field.
Its mobile nature is perfect for identifying subjects without having to bring the person back to an office or police station.
This PIV and CJIS compliant FAP 30 thin-film transistor (TFT) mobile fingerprint reader is the affordable choice for your mobile identification and verification solution.
HID NOMAD 30 Pocket Reader accessories include a variety of options for connection cables (to a smartphone, tablet or laptop), smartphone flip case or folio case.
ESSENTIAL CONDITIONS OF FINGERPRINT READER
BIOMETRICS INCLUDE FINGERPRINT READERS.
Fingerprint readers are used to securely verify identity
HID covers a wide range of products from the simplest for authentication on PC, network to the most complex of the LUMIDIGM series used by the FBI
CAPTURE

The fingerprint scanner scans your fingerprint.
It can be used for many applications, including access control, license verification, criminal background checks, computer logon, etc.
LIVENESS

Verification of the "liveliness" of a person, in practice verifying that the fingerprint is not a fake, which is performed via a computer system.
This control is usually used to counter fraud and identity theft.
MATCHING

The main categories of fingerprint matching techniques are minutiae-based matching and pattern matching.
Pattern matching simply compares stored images to see how similar they are.
Pattern matching is usually used in fingerprint systems to detect any duplicates.
LEARN MORE
See the document Powering Trusted Identities with Fingerprint Biometrics Brochure
Key Features
Small form factor easily fits in a pocket
Captures fingerprints in challenging lighting conditions, such as direct sunlight
Greater usability with automated capture workflow
Rugged design with a good IP rating and a glass-covered sensor
User guidance with LED landing lights and haptic feedback
Optional flip and folio cases contain all that is needed for a great user experience
Windows, Android, iOS, PIV, CJIS
FAP 30 compliant